Awesome Songhai May 11-15TH Group Tour Experience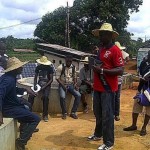 Our  May 2014 Songhai experience was awesome,
It is an experience of a life time,
what a feel of nature, ambient environment, good and friendly people,
it was fun educating and highly inspiring.
Our group really enjoyed their stay on the farm and the study was wow with renowned English speaking facilitators, lecture on point, right on time.The tour was Educative, impressive and mind blowing, An integrated farm that converts waste to wealth, Bio gas to produce electricity and cooking gas, production of maggot to feed fish, fertilizers very rich, fertilizers that reduce weed, Songhai commitment to excellence, Zero emission research initiative (ZERO),
The visit to Cotonou was one of the greatest experience I have ever had,  All the team were excited and enjoyed their special delicacy and the live music at the resturant, We also visited the main market and the mall, everyone shopped for their needs.
The poultry lecture was interesting, snail farming, grass cutter, fish farming, Songhai produced what they feed on, crop production unit was really educating and skillful, we learnt about Marigold flower which is planted around plants to protect insects from eating leaves and spoiling it, Marigold has a sweet smell and very colorful so when insect are going to feed on the plant, the flower attracts them with its smell and co lour the insect stay on the flower without getting to the plants.
Other activities includes, Visualization of Songhai DVD, Techniques of fertilization (Ramial chipped wood and compost), and Food processing.The team had so many great things to say about this May trip, and I share below their testimonial; It is one of its kind.
Guests Testimonial :
Highly inspiring, waste recycling system is convincingly visible with Songhai technology—– Obigbesan Adewale, Business Man
It was worth it, the tour for me was on point—– Yusuf  Olamide, Project Manager
It was impressive, my visit to Songhai farms through Hadur travels was very beneficial to me—- Oluwatosin Adesina, Business Man
It was fun and good learning. I will recommend to my friends, the taste of food is in the eating——- Adedibu Bassir, Pilot
Quite enlightening, I am happy I came for the life changing experience——- Akpomudiare Cynthia, Retiree
Awesome tour, I really enjoyed it, both educational with tourist expo—- Akintunde Olanrewaju, Pig Farmer
Good experience, My visit to Songhai farm is a good experience and I will like to visit the farm again—- Atanda Emmanuel , Pig Farmer
Insightful, whatever you dream, you can achieve by the grace of God—— Akpomudiare Jerry, Retiree
Our Next tour comes up August 10- 14th 2014, Registration has started for this tour,
The tour is well packaged and  tailormade to cover each individuals area of  interest.
Contact us today, You will surely enjoy an educative and inspiring tour to Songhai.
Coming soon :
Songhai Summer Family Package  ; Don't forget you can travel any time to visit the farm simply send your tour dates,
and we will send you a quote .
 You can also try out our  hands on training & youth Packages we will give you the best deal contact us today.
Songhai Farm in Port Novo, Benin Republic is a place to visit!!!!!!!!!!!!!!!!!!!!!!!!!!!!
by Fatima Yusuf
Executive Assistance  to CEO