Amazing Agritech Africa Exhibition & Conference Tour
The Agritec Africa Exhibition and Conference will be held in Nairobi, Kenya from June 23-25, 2014 at the Kenyatta International Conference Centre, Nairobi, Kenya. Our  observation is  that much as Africa has huge potential for Agricultural growth, thanks to ample amount of Land and Water Resources, land and agricultural productivity have been discovered be one of the lowest in the world.
We are driven by a passion to see Africa become a World recognized Giant in the field of Agriculture so we are inviting all who have a passion for agriculture and those who want exposure to grow their Agri ventures to this fantastic exhibition.
The theme of our tour is – Be Inspired to Farm Better.
    The Agritech Expo is an exclusive business-to-business platform, whereby the key stakeholders, retailers, agents and service providers from across the entire world  Agri value chain, will converge in one arena to discuss regional plans for development and Agri-Evolution.
From live crop trials and demonstrations to livestock auctions, this is a must attend event for any company wishing to generate new business and dramatically increase their profitability. Get re-energized and equipped with new ideas and search for tools to take back to your business.
Meet all levels of the Africa agribusiness value-chain under one roof. The Agritech Africa is a comprehensive three day platform that will bring together exhibitors for unrivaled networking opportunities, exclusive industry insights and the opportunity to showcase their products and services.
In addition to attending the conference our company will take you on a 1 day farm visit  tour to, local markets as well as coffee and tea production areas in East Africa. We will also take you to other thriving  farms, let you visit and interact with potato, cassava and sweet potato farmers and give you a chance to taste honey as you talk to both small scale and large scale bee keepers.
   About   Agritec   Africa:
 In Africa, Agriculture employs 65% labour force. Agriculture Sector accounts for 32% of GDP of Africa. Africa requires attention on following three core areas for Higher and Sustained growth: Facilitating agricultural markets and trade Improving Agricultural Productivity Investing in public infrastructure for Agricultural Growth.
Conference: An International conference on agriculture and industry presentations will be organized during the event. This Conference will be based upon Agriculture Industry, Profession and services
It will focus on versatility of Agricultural segment in different zones, feature keynote speakers and other key information's and activities of industry.
Exhibitors Profile :
 The Exhibition is open for all companies and organizations with products or services related to the following topics: Agri Ecology Agricultural Building Contractors Agricultural Machinery & Equipment Agro and Food Processing Aquaculture Biotechnology Fertilizers & Chemicals Floriculture, Fork lift & Handling Equipment Greenhouses Horticulture Irrigation and Water Technologies, Livestock & Dairy Farming, Poultry, Precise Agriculture R & D Renewable Energy Rural Development Seeds, Nurseries & Plant Propagation Materials Small Ruminants Software & Hardware Veterinary Turnkey Projects & Knowledge Transfer,
 Visitors Profile:
 Agents & Distributors Bankers Educationist & Students Farm Contractors Farmers Govt Authorities Importers & Exporters Trade industry & Trade Media Investors & Entrepreneurs Consultants Scientists Technologists Transport & Logistic Experts  
Networking: Networking at Agritec Afrika will be the most comprehensive forum where international agriculture and water industry executives, academia, institutional investors, venture capitalists, analysts and other experts will have the opportunity to shape the future collaboration landscape of agricultural technology.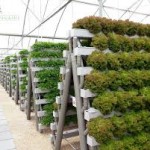 About Kenya :
The Economy of Kenya is the largest by GDP in East and central Africa. Agriculture is a major employer and the country traditionally exports tea, coffee and most recently fresh flowers to Europe. The service industry is a major economic driver. Kenya's monsoon seasons start during April to June, after which 'short rains' season occurs till November. Currently Kenya is aiming to create a globally competitive and prosperous nation with a high quality of life by its 'Vision 2030′. project .The vision is anchored on three key pillars; economic, social and political Governance.
Agriculture:
The Agricultural  Sector contributed 24% in the total GDP of Kenya in year 2011 – as per the Kenya National Bureau of Statistics 2012.Kenya's Agriculture Sector directly influences overall economic performance through its contribution to GDP. Periods of high economic growth rates have been synonymous with increased agricultural growth. There are several untapped crops cultivation in Kenya which can positively affect the African economy – Tea, Coffee, Sugar, Horticulture, floriculture, cotton, Macadamia Nuts, etc.
It is worthwhile to note that the Presence of R&D centers, Agricultural Infrastructure, Agricultural University, Government Support, Initiative of NGOs and other associations have made Kenya a Unique choice for such a International Exhibition on Agriculture Technologies.
Although farming is the most important economic sector in Kenya, less than 8% of the Land is used for crop and feed production and less than 20% is suitable for cultivation.
Kenya is a leading producer of tea and coffee, as well as a third leading exporter of fresh Produce, such as cabbage, onions and mangoes. Small farms grow most of the corn And also produce potatoes, beans and peas.
The Strategic areas included:
1) Streamlining Agricultural policy Framework
2) Creating an enabling environment for the private sector
3) Improving delivery of support services
4) Promoting marketing, agro – processing and trade
5) Main streaming agriculture development issues in other sectors
6) Strengthening institutional implementation & monitoring frameworks
The organizers:
Radeecal Communications specializes in conceptualizing, planning, organizing/managing Industry Specific Events, in tandem with various Associations and Industry leaders. The objective is to create a neutral platform for the players of the Industry to assemble under one roof, share information and knowledge, both technical and trade oriented, understand the market dynamics – existing and future (short term, mid-term and in the long term) and trash out the issues, and come to conclusions that shall benefit the Industry as a whole. Some of  their Events are:   Agritech Israel 2012 , The 18th edition a world renowned forum  for all lovers of Agriculture . Agritech Asia 2013: The 3rd edition of Agritech Asia, International Exhibition and Conference, September 9-12, 2013, Gandhinagar Vibrant Gujarat Agri & Food Technology Expo: Event of Vibrant Gujarat Global Investor Summit, January 8-13, 2013, Gandhinagar Agritech Asia 2012: The 2nd edition of Agritech Asia, International Exhibition and Conference, September 3-6, 2012,Gandhinagar.
Hadur travels invites you to be  part of this great event we have specially packaged a stress free tour spiced with leisure to the delight of our customers so you can not only network but be exposed and be inspired to farm better .
Tour Date: June 22 – 27,  2014.
The package:
An all Inclusive package designed for your comfort providing all your travel needs including accommodation, meals, ground fees and transport, airport to airport.
It also covers: visa procurement, flight, half board – breakfast & dinner, hotel & ground travel professional farm visits.
Hurry to book your seat limited places available closing 6th June

Simply send an email or leave a message on the contact us form our promise ?

You will get more than you bargained for .