Why You Must Visit Rome in 2014 .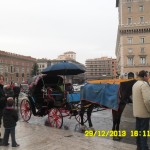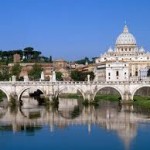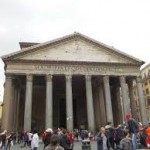 Rome Overview:
Rome, the Eternal City, is a top travel destination in Italy with many interesting attractions. Today's Rome, Roma, is a vibrant and lively city with reminders of its past everywhere. The visitor encounters ancient monuments, medieval and Renaissance buildings and fountains, and great museums. Rome is the capital of modern Italy and boasts of many fine restaurants and cafes, good nightlife, and lively streets and squares. Although it's a huge city, the historic center is fairly compact.
Rome Location:
Rome is in Central Italy, not far from the west coast. The main port today is Civitavecchia, where cruise ships docks to visit Rome.
See Civitavecchia to Rome Transportation for information about getting to the city or airport from the port
Rome Sights and Attractions:
Just walking around in Rome can by entertaining and you  can something interesting almost anywhere. Here are some of Rome's top attractions.
The Colosseum – Colosseo is the largest monument in existence from Imperial Rome. It is a huge amphitheater that housed the fierce gladiator and wild animal fights. A good approach is along the Via dei Fori Imperiali. Ticket lines may be long. google tips for buying Colosseum Tickets to avoid the ticket line and view Rome Colosseum Pictures for an overview.
The Roman Forum – Foro Romano is one of the city's most important archaeological sites. It was the focal point of Republican Rome and has monuments from 900 years of history. You can buy a combination ticket for the Forum, Colosseum, and Palatine Hill.
What to See in the Forum
The Pantheon is Italy's best-preserved ancient building, It started out as a pagan temple and then became a church. There is a big piazza in front of it that makes a nice place for an evening drink (although pricey).
The Capitoline Hill is a great place to get a view of the Roman Forum. The focal point of the hill is the grand Piazza del Campidoglio designed by Michelangelo. There are two important museums housing an impressive collection of sculptures, paintings, frescoes, and mosaics. More about the Capitoline Museums.
Piazza Navona is a lively piazza ringed by upscale cafes. At its center are three lavish fountains. See Piazza Navona.
The Villa Borghese houses the Galleria Borghese, with a large c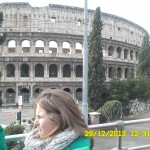 collection of famous sculptures and paintings.
Saint Peter's Basilica – Basilica di San Pietro is the largest Roman Catholic building in the world. It houses important works by Michelangelo and Bernini. Although not really in Rome, Vatican City is a popular destination for travelers in Rome.
St. Peter's Pictures
Vatican Museums – Musei Vaticani, the largest museum complex in the world, houses art spanning 3000 years from the Classical and modern world. Here you can see the Sistine Chapel with Michelangelo's frescoes. Vatican Museum Visiting Information
Rome is a popular travel destination in Italy full of attractions. Although Rome is a huge city, its historic center is small, making it easy to walk.I recommend at least a stay of 3 full days in Rome  ask me why ?
Arrive on  the first  day  in the morning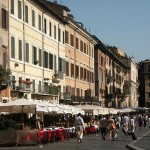 you will check into your hotel. Take some time to wander around the neighborhood near your hotel. If you want to see more of the city, take public bus number 110 (from the train station or ask your hotel for the closest stop). Riding on this bus is an inexpensive way to get a good overview of Rome. Contact us for your individual, family  or group tours to Rome .We have scheduled group tours in October & December to Israel visiting all holy sites  and our package is all inclusive .
source- about .com