Join millions of football fans Round the world to feel the excitement of Brazil world cup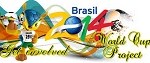 BE PART OF THE EXCITEMENT THIS SEASON
São Paulo will appeal mainly to urban lovers, but is close to the wilderness of the Costa Verde's Atlantic rainforest. Rio has its own inner-city wilderness, the Tijuca Forest national park, and its residents enjoy an enviable lifestyle, including a great beach sports scene.
The 2014 World Cup, by spreading the matches around a dozen cities, opens up parts of Brazil that are still neither famous nor tourist-infested. A party like 2014 is bound to be a good time to explore them.
Host cities
Rio de Janeiro Stadium: Maracanã – upgrade completed (capacity: 76,804).  Fun stuff: Ipanema beach, Christ the Redeemer, dinner in Santa Teresa, favela tour, cable car up the Sugar Loaf; choro music and dance.
Brasilia Stadium: Estadio Nacional – almost completely built and reopened in 2012 (68,009).  Fun stuff: Niemeyer's modernist architecture, dining at the local churrascarias (steakhouses); maned wolves and armadillos at the Parque Nacional de Brasilia.
São Paulo  Stadium: Arena de São Paulo – new stadium (65,807).  Fun stuff: gastronomy; clubbing; the Costa Verde forests and beaches; and the football museum at Santos (all 75-minutes' drive away).
•What to see and where to stay in Sao Paulo
Belo Horizonte Stadium: Mineirão – upgrade completed (62,547).  Fun stuff: the hearty comida mineira cuisine and local cachaças; Inhotim contemporary art gallery; Serra do Espinhaço Biosphere Reserve; scenic train to Vitoria.
•What to see and where to stay in Belo Horizonte
Cuiabá  Stadium: Arena Pantanal – new, due for completion 2014 (42,968).  Fun stuff: jaguar spotting, riverboat cruises, piranha fishing.
Curitiba  Stadium: Arena de Baixada – new, due for completion 2014 (41,456).  Fun stuff: Oscar Niemeyer Museum, German culture; Serra Verde train ride to the port city of Paranaguá.
Fortaleza  Stadium: Castelao – upgrade completed (64,846).  Fun stuff: 4WD and beach buggy tours; boat trip around the protected coconut eco-park.
Manaus Stadium: Arena Amazonia – upgrade due for completion late 2013 (42, 374).  Fun stuff: float-plane flight to see the meeting of the black Rio Negro and chocolate-coloured Amazon; riverboat trip to the anavilhanas (river islands) to observe caiman and monkeys; Manaus Opera House.
•What to see and where to stay in Manaus
Natal Stadium: Estadio das Dunas – new, completion due by late 2013 (42,086).  Fun stuff: beaches, especially lovely Praia de Pipa; dune-buggy rides; tapioca ice cream.
Porto Alegre Stadium: Beira Rio – being upgraded, due to open early 2014 (48,849). Fun stuff: nightlife, nearby ranches.
Recife Stadium: Arena Pernambuco – new, due for completion 2014 (44,248). Fun stuff: forró music and dancing; Olinda, the nearby colonial town and Unesco World Heritage site.
Salvador Stadium: Arena Fonte Nova – new, completed (48,747).  Fun stuff: Bahian dishes like moqueca stew (creamy and rich, with palm oil and coconut) and carne do sol (salted meat dried in the sun); colonial-era churches; African drumming; dancing; capoeira lessons
SOURCE THE TELEGRAPH ;
PACKAGES :
5 & 12 night Packages availavable
what you get :
Packages includes :
International Flight   Domestic Flight
Visa Assistance        Hotel Reservation
Airport Transfer        Stadium Transfer
Protocol Service
HURRY CONTACT US TODAY