Integrated farming: Waste-to-wealth venture maximises profit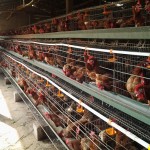 Integrated farming, which involves two or more aspects of agricultural production such as cropping, livestock production, fisheries, is one of the surest ways small, medium and even big farmers can minimise wastage on their farms and maximise profit.
It is particularly suitable for developing countries, because it is a relatively low-cost way to deal with human and livestock waste, and of course these provide organic fertiliser for the crops, cheap feed for fish, energy for heating or cooking, and so on.
Songhai Farm Centre in Porto Novo, Benin Republic, is an example of an integrated farm, designed in such a way that small as well as big farmers can pattern their own farming operations in similar ways and achieve same results, if the right processes are followed. This integrated farming approach has also been used successfully in several countries around the world including Brazil, Benin, Fiji, China and Vietnam. Integrated farming is actually an intensive growing system using organic and sustainable farming practices, while providing high agriculture yields.
To help farmers achieve this maximal yields, for some time now, Hadur Travel and Tours, a Lagos-based firm of international tour operators, has been organising agro tours to various destinations where existing farmers and aspiring ones can gain practical learning experience/knowledge. Olufunke Taiwo, chief executive of Hadur Travel and Tours, says, "Through these study tours and the invaluable knowledge gathered, many have been able to start or grow their businesses. The Songhai study tours give farmers and those aspiring to become farmers the knowledge on how to utilise wastes that would normally have constituted a nuisance, and turn them into good use which helps in reducing their cost of production and achieve good yields."
Taiwo adds, "So, on July 21, this year, Hadur Travel and Tours will be leading the next group of farmers on a four-day study tour of the farm." She went on to mention many of the cost saving measures learnt on the Songhai Farm Centre. For instance, with the use of simple implements called the digester, biogas can be produced on the farm.
After passing through various processes, the biogas is held at the top of the digester and when it builds up pressure it goes through a pipe to a tank or bladders where it is then stored to be used as needed. For small operations, a smaller digester can be used to produce biogas for cooking and heating, while on larger facilities it can also be used for small scale electrical generation.
Another of the numerous examples of waste-to-wealth on an integrated farm is in fish production, where waste water from livestock production is used in growing feed for fish. Also, through a simple process, poultry waste produces maggots which are fed to fish.
Elizabeth Adejoke Oladipupo of Yolad Farms, one of the Hadur Travel visitors to Songhai Farm Centre last year, has been implementing what she learnt. She says, "We use the droppings of poultry which are reared on the farm and other wastes such as grass and leaves to produce composite (organic manure) through a process that takes three months. This composite can be used in growing crops, especially vegetables such as tomatoes, it is organically grown vegetables which health experts endorse is good for health. This manure is also very much cheaper than chemical fertilisers."
The farm also produces fish and has been able to reduce feeding costs by 10 to 15 percent using maggots. "We get the maggots from poultry wastes and we now supplement the fish feed with the maggots, the result has been very fine and it has also helped in reducing cost of production by 10 to 15 percent, as feeding comprises up to 60 to 70 percent of the cost of fish feed production," she says.
By OLUYINKA ALAWODE