Christian Jerusalem Pilgrimage – Frequently Asked Questions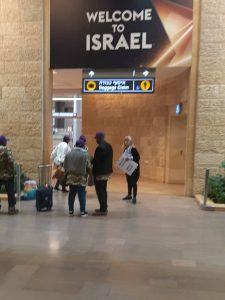 What is a Christian Pilgrimage?
–

Christian
Pilgrimage is a deliberate journey to a sacred place. A time of quiet and reflection.as you step out of the non-stop busyness of your life
What is unique about a Pilgrimage to Israel?
–
A Pilgrimage to Israel gives Christian believers, a unique opportunity to feel the Bible come alive with lively visits to historical sites we read about in the scriptures.
What sites do you visit on your Tours?
–

Our t
ours cover famous life changing sites from Jerusalem, Bethlehem, Nazareth, Jordan, Carmel, Dead Sea, to Galilee all famous Christian sites and much more.
What is the difference of an individual tour and a Group Tour?
–
An individual tour depending on the cost may be more expensive than a group tour and the schedules are flexible.
–
The group tours are more affordable with opportunity to net work with like minded faithfuls and the schedules are not so flexible.
What is the Tour fee for Pilgrimages?
–
The estimated tour fee is depending on the season of the year, duration of the tour and the Exchange rate.
What are the benefits of embarking on a Pilgrimage?
–
It offers a unique opportunity to feel the Bible come alive, bringing about Spiritual satisfaction as well as Pleasure derived from embarking on a relaxed trip.
How many Tours do you organize in a year?
–
We organize 3 group tours yearly (1st quarter) mid year June /July and (3rd quarter). However we package other group & individual tours all year round as the need arises.
To register for a Pilgrimage, what are the steps to take?
–
Step 1:
Download or collect, fill the registration form, Guarantors form and additional visa information forms
–
Step
2
: Pay a registration fee
–
Step
3
: Submit the forms along with the data page of your International Passport.
–
Step
4
: Submitted forms will be cross checked for eligibility
–
Step
5
: Collect and properly fill Visa form
–
Step
6
: Make deposit of at least 50% of the tour fees.
–
Step
7
: Attend visa interview.
Can one travel on different dates apart from the main tours organized yearly?
–
Yes. Tours can be packaged specially on demand. We organize tours all year round.
What is the duration of your tours?
–

We have different
packages :10days, 8days, 5days etc depending on the budget.
What is the difference between Governments organized Tours and Tours organized by Private Tour Operators?
–
The major difference is that the Government sponsors the Tours while for Private Tours it is the individual that pay for the tour (though lately the Government has declined in taking up this responsibility)
–
Government tours usually convey large number of people while the Private tours accommodates less people so they are easier to manage
–
The Government tours can be stressful to process but the Private tour operators make it less stressful for the Pilgrims because the assist them with all aspects of the process.
What does a Tour Package include?
–
The Tour fee covers : Visa Procurement; Return Flight Ticket; warm Meet & Assist; Homely Hotel Accommodation (double room); 3 Delicious Meals; Luxurious Ground Transportation; Friendly Tour Guides; Medical/ Travel Insurance; Jerusalem Pilgrimage(JP) Certificate and Gifts.
Can I make an initial deposit if I don't yet have complete fees at hand?
–
Installment Payment is acceptable .
Are children allowed on the tours?
–
Children can go on tours especially in December since schools will be on vacation.
What are the rates for children?
–
Registration fee for children is and flight rates are discounted for those under 12 years depending on their ages.
Apart from the Pilgrimage, what other tours do you organize?
– Agric Study Tours; Business Tours, Vacation and Holiday Trips.
Is my Passport valid for the trip if I have at least 1 month before expire date.
– No. Your Passport will only be valid if you have at least 6 months validity from the date of the Tour.
What if i decide to travel to another country while on the Tour or extend my stay.
– If you have a genuine reason to extent your trip pls let us know at the time you register we will let you know if this will be possible as absconding during the Tour is totally unacceptable. We strongly recommend that you do not join our trip if you have dubious intentions or you may face prosecution.
I have not visited any country before now, will I be allowed to on the Tour ?
– You will be given a Visa even if you have not traveled out of this country before.
As long as details supplied are authentic and are recommended you after the visa interview.
Can I organize my own tour?
– Emphatically YES. Churches and groups can partner with us to organize a tour. The tour will be specially tailored to suit each group.
Please contact us for more details or click on our up coming tours page for current tours .https://www.smarttravelsuperfan.com/come-on-our-israel-tour-and-experience-the-land-of-the-bible-make-your-dream-come-true/
Join our next tour today