Experience an exciting on site professional learning at Songhai farm
  Our Agric tour to Songhai farm in Cotonou port novo 26th-30th August  2012 was a great sucess watch out for our next tour we   promise you a memorable time , mark your diary today this is a special invitation to connect  you with professionals to help you grow your business this will eventually help you  save lots of money.
 How would you like to get experts take you on practical learning experience of a high tech farm? Or wouldn't you like to have a big farm bringing you extra ordinary produce and high income. Read all the details of how to start out here you will not be disappointed.
 As a follow up programme sequel to the success and popularity of our May agrictech tour to Israel and requests for more tours from our  highly esteemed clients ,we have packaged a world class study tour of Songhai farm to expose you to a detailed and professional visit of the farm.
 To learn new agro farming techniques that will boost your farm income.
 Why Songhai Farm?
Songhai farm is one of the largest NGO farm projects empowering Africans, an integrated farm Centre that uses all its waste produce to generate more income and increase produce. Songhai farm    is a chain of agricultural research centres established by a Nigerian American for the promotion of the study of sustainable farming techniques. They grow crops and fruit, raise animals for eggs and meat, turn the crops into products (and make use of all waste products in one way or another) and then sell them…and they have a 'village' where people can come and learn the techniques they use.This is where we will be taking you.
 They grow their own fruit. The mangos and pineapples etc are made into juices and jams.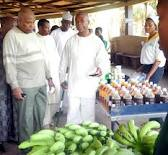 The farm has about 15 sections that are farming, aquaculture, biogas, poultry, mushroom, mechanic, grasscutter, snailery, piggery, and many other things that you will discover at your arrival at the farm. There is so much more to the Centre than it is possible to explain in this write up .
Hadur travels has packaged a tour to this farm from 24th-27th we invite you to join this turn to learn all you have desired to know to turn around your farm
contact us by email or click our contact us link to leave a message