Agric tourists for Songhai Farms August 26
A Lagos-based travel and tour outfit, Hadur, will embark on a four-day study tour to Songhai farms, Port Novo, Benin republic, on August 26,2012 expected participants at the tour are practicing and intending farmers, cooperatives societies, universities, agro allied suppliers, etc.
Managing Director of the organization, Ms. Olufunke Taiwo, said the tour was aimed at exposing Nigerian farmers to modern techniques in agriculture, which will give them better practical farm training and knowledge To boost food production.
Participants will acquire professional knowledge on agricultural biotechnology, livestock, dairy farming and all they want to know in agriculture. Taiwo explained that Hadur decided to engage in Agric tours, having seen the exploits, which Israel is making in the area of agriculture.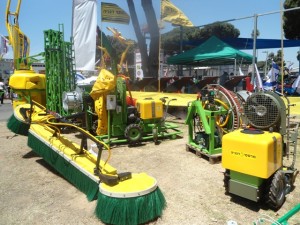 We take our customers to exhibitions and farm visits for the development of their businesses. In the cause of taking people to Israel on pilgrimages, I discovered that the country is rich in agriculture and I came across agric tech, which was held in May 2012. So I decided that it would be of benefit to our farmers, who are yet to learn much in agriculture. We came back to organize people for such trip.
The first set of people she met were Ogun State Poultry Association (PANOG), which immediately agreed to partner with her outfit.
They agreed to partner with us and helped us on the promotions and that was how we started the promotion of agricultural tourism in Nigeria in early 2012. Since then, there has been no turning back. People had been more enthusiastic about that", upcoming tours are agric tech in Asia and Israel in September.
Source : Sun News paper | August 16, pg 22