Unbelievable Budget Summer packages For Every One
OBUDU  RANCH-  NIGERIA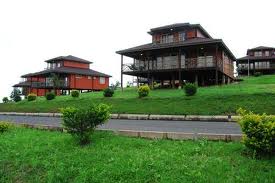 Now Obudu Mountain Resort, located in Cross River State situated close to the border of Cameroon and is reached from Lagos by airplane.
Obudu Mountain Resort offers a fully equipped gym, two floodlit tennis courts, a squash court and a natural swimming pool. Keen golfers can show their prowess on the hotel's 9-hole golf course.
The tours to view the magnificent scenery and spectacular bird life are a must for the visitor to this part of the world and these tours can be taken on foot or on bicycle. For those who forgot to pack binoculars, the Canopy Walkway which is situated in the trees allows visitors thrilling close-ups of the birds in their natural habitat high above the ground.
A major talking point for guests is Africa's longest cable car system. At 4 kilometers, Obudu Mountain Ranch's cable car gently transfers guests (and their bags) from the tropical climate at the base of the mountain right to the hotel's reception area on the mountainside which is often in the clouds and is accompanied by an invigorating drop in temperature.
So, grab your hiking boots, pack your Binoculars and come experience this virgin part of Africa and sleep easy knowing that all the comfort and top-class service which African Sun is famous for will be provided in your stay. Join us at the Obudu Mountain Resort and enjoy a different but still unforgettable experience.Book this tour here -https://www.smarttravelsuperfan.com/contact-us/
                                                               SOUTH   AFRICA.
Johannes burg    South Africa's largest city remains its financial and commercial heart. It's in this fast-paced metropolis that the country's radical political and social transformation is most evident – this is the 'Rainbow Nation' at work. It's a heady experience, with contrasts of every kind round every single corner. Our tour sets off for Constitution Hill, home of South Africa's architectural marvel, the Constitutional Court and site of Johannesburg's Old Fort Prison (closed Sundays). We meander through the newly renovated, quaint and quirky suburb of Melville with its vibey shops and trendy restaurants, and stop at Newtown Market, home of Johannesburg Market Theatre. Museum Africa is Johannesburg's premier cultural history museum, reminiscent of a 1950's shebeen or pub, and it's here you'll really sense the soul of the inner city.
Won't you love to spend your Christmas here ?
In South Africa the sun is hot and the beaches are full of families enjoying braais (bbq's) or traditional Christmas dinners with paper hats, mince pies, turkey and plum pudding (a vestige of the British colonial legacy.)
Church Services and Caroling
The history of Christianity in Africa dates back to the 1st Century AD. What every missionary has found since that time is that Africans are very spiritual people. (Besides Christianity, the other main religions are Islam and indigenous beliefs). Going to church is generally the main focus of Christmas celebrations in Africa. Nativity scenes are played out, carols are sung and in some cases dances are performed.
You get to enjoy many fun things in this city you will never be bored from a visit to sun city or a variety of game reserves you will have a truly relaxing holiday .
Sun City is internationally renowned as Africa's premier holiday resort, offering a myriad of different entertainment and relaxation opportunities as well as enough attractions and activities to keep everyone busy.
The fabulous Sun  City resort complex captivates visitors with its combination of golf, game-viewing and gambling as well as world-class hotels. Formerly the gambling mecca of South Africa, Sun city still attracts those who wish to gamble but also those who want to relax.
Sun City in South Africa offers everything and more and it has become a haven for holidaymakers to South Africa.
Take time to make your choice we will package a great tour for you
Fill the contact form here to leave a message .https://www.smarttravelsuperfan.com/contact-us/
Thinking of other places ?  Call  us today we will package a stress free vacation you wont forget in a hurry for you .