Informative business 2012 tours to grow your business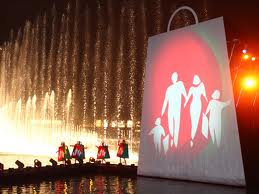 Hadur travels is poised to actively promote Business Travels this  year as part of  its contribution to economic growth and development   and to encourage entrepreneurial development .
Travel  has been identified as  the best practical education  when it is combined with networking for business development the gains cannot be enumerated.Our 2012 calendar opens  with a trip to Dubai shopping festival in January  you get excellent and superb shopping deals if you have been looking  for a new  shopping outlet for great deals and unique trendy items then this is the place for you get the opportunity to take a look at everything and get to sign up partnership deals with genuine business people.
Next we have business an  Agriculture  Group Tour to Israel in May  including visits to factories and fruit plantations to see and learn about  agriculture in Israel this trip is termed 3  in 1 because it will allow participants an opportunity to visit Holy sites too. Places to see include Kibbutzim, Dairy farming ,fruit plantations, Dairy farming management , packaging  , Juice making  plants.
The Initiative –Agriculture in the Desert Is This Possible ?
Read all about Israels Agricultural Tourism.
" WHO knew that bananas could grow in a desert? David Sseppuyya's pictorial from a recent trip to Israel confirmed this (Sunday Vision August 3). The photograph showed bananas growing at the foot of the Mount of Beatitudes and it reveals the fact that agriculture in Israel is advanced.
Israel's agriculture sector is characterized by an intensive system of production, stemming from the need to overcome the scarcity in natural resources, particularly water and arable land. The constant growth in agricultural production is due to the close cooperation between researchers and farmers. Together, they develop and apply new methods of agriculture.
The result is modern agriculture in a country more than half of whose area is desert. With only 24,000sq.km, Israel is a-tenth of the size of Uganda but has a GDP per capita of $23,000(sh38m). Yet Uganda has only $394(sh 644,190) despite its relatively vast size and resources (Sunday Vision, June 1).
Israel can't help but be proud of its agricultural achievements, considering its small dimensions, minimal water resources and other challenges. The numbers speak for themselves: in the 1950s, one Israeli farmer fed 17 people; a little over 50 years later, that number is up to 95! Israel is constantly researching new products and technologies, which have allowed it to successfully till the arable 20 percent of Israel's 21,000 square kilometers.
Israelis like to think that the first "agro-tourists" were the biblical Joshua and Caleb who lugged a huge bunch of grapes to show the children of Israel the amazing fruits of this land. Israeli farmers delight in exchanging knowledge with special-interest visitors. The variety of its produce means that farmers from around the world find a common language with counterparts somewhere in Israel, whether it's the well-watered north, the subtropics around the Sea of Galilee, the arid lands in the Negev and the Arava, the coast, or fish-breeders (even that is done in the desert). Many of Israel's farmers are members of collectives (kibbutzim) or cooperatives (moshavim), with Arab farmers in the rural sector specialize in the raising of small livestock, vegetables, field crops and olives. There are also several still-thriving private-venture farms established in the 19th century. Getting to know the people behind the produce and making lasting connections are unforgettable aspects of an agriculture tour of Israel.
Initiative, innovation and wise land and water use, especially saline water to raise grapes, olives and tomatoes, among other crops, has placed Israel at the global forefront in arid-land agriculture. Warm desert winters provide an economic edge, allowing produce to be marketed a month or more the same crops are being harvested elsewhere. Surprising to some is the fact that flowers are Israel's number-one agricultural export. And good stewardship of the land is never forgotten – dairy-farming and other sectors are now transforming themselves into environmentally friendly enterprises.
An agricultural tour of Israel is  the opportunity to further your knowledge and interests, interspersing visits to the historical, religious and nature attractions that make Israel unique. For added value, consider timing your trip to one of the agricultural festivals or peak seasons in Israel: the Olive Festival in October, grape-picking in the summer, cherries in the late spring, and more. "
AGRITECH 2012
Visit the Agritech 2012 exhibition in Israel and tour the country visiting organic vegetable farms, greenhouses and dairy farms as well as visiting the main sites of Israel along the way.
The 18th International Exhibition "Agritech 2012" will take place in Tel Aviv Israel from May 15th – 17th 2012.
The last from Israel is what we believe every business will be interested in  considering the challenges businesses face from the in efficiency of PHCN.
Our Famous  Solar Energy Tour
This Group Tour to Israel including visiting research centers, power plants and wind farms to see and learn more about Solar Energy in Israel.
Israel  is a leading  technological country  this is why we strongly recommend this tour for all who want to grow and expand their business   this tour is a must  if you want your business to succeed.
For business start up and growth our all year business consulting and  ILO training start and improve your business training will help you take your business to the next level .Putting  structures in place doing business reviews and  financial planning  and writing marketing plans  are strategies to make you beat your competitors  hands down in the new year .Training and consulting with experts is a necessary ingredient .
Our regular Executive  group tours to Holy Sites  in Israel is scheduled for May and November 2012 and registration has commenced to help people plan  ahead and save towards the trip of their dreams.
This is really a spiritual trip to holy sites to enrich the pilgrims spiritual life we encourage fellowship as well as networking with the aim that after the tour the pilgrim will be more fulfilled spiritually and impact on their families and friends.
Our Ilo based start and improve your business entrepreneurial trainings  by Hadur consult our parent company will  focus on how to do new things in your business in the new year to increase productivity and profitability .This is the time for reviews and goal setting financial planning budgeting and new marketing initiatives.
If businesses can do this successfully then they  are sure to have a solid road map to guide them through the new year.
Happy productive and fruitful new year.