HADUR EXCLUSIVE 3in1 STUDENT TOUR TO ISRAEL.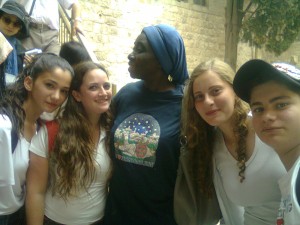 As Professional tour operators, we have designed a special package for school students from ages 11 -18.
The "3in1" comprises of a tour to Israel which includes Educational, Fun & Pilgrimage sites .Lots of exciting places to visit & thrilling things to do.
EDUCATIONAL:                               
This aspect  covers a Study of Israel's Culture,  Team building, Agriculture, Political and Social lifestyle.visit to the Museum.
FUN:
Visit to the Dead and Red Sea,where people float on water or practically read a book or watch nature while sitting on the water! not sinking!  rich in minerals that consist of all kind of safe water sports and  an underwater observatory,awesome Mountains, sunny Beaches, exciting Resort Centres, rejuvenating Spas,[mud bath] health and beauty tips. Boat rides, Games, Fun rides on ancient Donkeys, Carmels, Horses, shopping and so much more.
PILGRIMAGE:
A tour of Bethlehem, Church of Nativity, Mount of Olives, Jerusalem, Via Dolarosa, Nazareth, Boat ride , etc.
OUR PACKAGE:
Homely accomodation for students and Adults suitablity.
Return Flight ticket.
3 square nourishing meals/dessert/fruits etc.
Luxurious Ground transportation to different tour sites.
Medical/travel insurance.
Medical Aids.
Friendly and educative tour guides.
Suprise gifts.Certificate of Attendance
Allow us to give your students a memorable and  unforgettable vacation tour. We would like to get a positive response from you.