Visiting Lagos? Then You Should See This…
Ever wondered why Lagos is referred to as "Eko Akete, Ilu Ogbon" in English meaning Lagos, the land of wisdom. This is due to the popular saying that Lagos is a no man's land which encompasses all types of people from every work of life tribe or race. Lagos, Africa's very own life wire, a vibrant mega-city whose pulse is felt as wide as an ocean. A brief history of Lagos can be traced back to the centuries from a colonial trading outpost, to the first capital of an amalgamated Nigeria and its status today as the commercial and financial nerve centre of the nation. The Yoruba indigents occupied a site known as 'Eko' which was later identified as 'Lagos' in 1472 by the Portuguese explorer Rui de Sequeire.
At Hadur Travel &Tours, we are delighted to announce we offer a wide variety of Tourist attractions in Lagos as well as its environs we invite you to come feel the heartbeat and the warm pulse. This is a major priority as a tour service provider company to introduce the beauty of Lagos to all visitors, giving them the opportunity to explore our beautiful city and country. As a Citizen or an international visitor you can benefit from our amazing offer. Its important that the same we take interest in seeking knowledge and emulating other people'culture we should likewise embrace and showcase our culture and History.
Starting with Lagos, how much of this city do you know?
You have been living in Lagos for many years i ask if you can trace her history back to where it began like myself(well until I visited the Historical town of Badagry)
It is important to show our children and the whole world by exploring Lagos tourism with its many site attractions.
A highly recommended top of your must visit places for you and your loved ones .
We offer a variety of services including:
-Historical and Cultural Tours to museums and Art Galleries.
-Airport Transfers and Pickup
-Nature tours to Parks
-Beach and Jettis
-Shopping, Arts, Crafts, Bead and Batic
– Food and Drinks
-Spas
We recently visited three of these amazing sites in Lagos; -Nike Art Gallery, Historical Tour to Badagry, Whispering Palms. It was an amazing experience. Historical tour was on the 1st of October as we commemorated Independence day diving into the roots of our dear nation.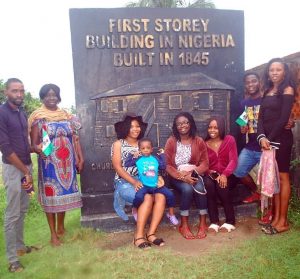 Duration:
The amount of time to be spent depends on the package you are interested in. Our trips within Lagos , to Badagry or Abeokuta are affordable come in different forms – day tours 2days etc ,
Transport:
Road trip is always the best due to allow room for sightseeing and fun being in the midst of other tourists. This would have been the best if roads are good and motorable. Due of the poor condition of our roads, alternative options to be considered is the use of ferry or speed boats to ply this route since the town(Badagry) also has a sea port.
Sights of Interest:
We visited the Heritage Black Museum, Mobee Royal Family Slave Relics Musem, Seriki Williams Abass' Brazilian Baracoon, Slave Trade Port, First Storey Building, Whispering Palms amongst others.
Wouldn't you rather join us on this amazing adventure so you can have something to write home about.
For bookings, kindly contact us by leaving a message on the contact form provided below you should also follow our Facebook page for more exciting pictures and details about our offers:
Think Travels, Choose Hadur!