Top Tourist Attractions in Nigeria -Visit Lagos Today!
Nigeria is a beautiful place to visit it stretches over 1 million square kilometers, it would be weird if it did not have anything worth visiting. This unique and beautiful West African state is a large and gorgeous country that has several breath taking places that you must see! Lets stop at Lagos first since it is the heart bit of Nigeria to explore its rich History unique culture and exciting sites .
Explore A Variety Of Lagos Tourist Attractions !
Nigeria is the most populated country in Africa an untapped tourist paradise with long stretches of exotic beaches, lush mountains, well-preserved tradition culture and enchanting attractions that draw tourists from different parts of the world. In recent times, we have witnessed a spike in the number of tourists coming to see the sights of the most populated black nation and these tourists often end up seeing just a fraction of what the whole country has to offer.
WHY I LOVE LAGOS – IT IS MY HOME :
Let's start with Badagry!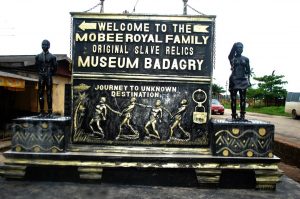 Badagry Black Heritage Museum.
Badagry Black Heritage Museum is located in the ancient town of Badagry, Lagos, and it is housed in the former district officer's office built in 1863. Badagry Black Heritage Museum, founded in part by the Nigerian Cultural Commission, preserves artifacts and records from the slave route that once ran through Badagry. The hundreds of artifacts and historical relics it houses chronicle more than 300 years of the movement of slaves through Lagos. From the early 1500's, slaves were transported from West Africa to the Americas through Badagry. It is reported that Badagry exported no fewer than 550,000 African slaves to America during the period of the American Independence in 1787.
JOURNEY THROUGH THE PAST :
As you journey through the museum's nine galleries, you'll be faced with sobering reminders of this barbaric industry like trade documents, dated shackles, sketches, photos, sculptures and other salvaged historical records that mark the city's dark past you need to go and see this yourself. In addition to the Heritage Museum, the entire town of Badagry is a living historical museum — from sights of the 1502 open market where slaves were auctioned off, to makeshift Baracoon cells, which were used to keep slaves to the final exit routes used in the 17th and 18th centuries to transfer slaves to the Point of No Return at the tip of the peninsula. We strongly recommend this as the most popular Historical site .
Lekki Lagos Nike Art Gallery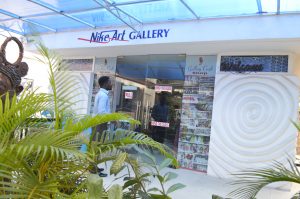 Back to the city of Lagos ,another must see sight is Nike Art Gallery this is without doubt one of the top art galleries in the world ! Owned by no other than the renowned and award winning Nigerian artist, Nike Okundaye. She took this great initiative with core principles to inculcate cultural heritage to the people of Nigeria. She also wanted the youths to do their best to uphold cultural beliefs instead of going for foreign cultures. Aunty Nike, as popularly called by her fans , gave various useful workshops on traditional textile in the past, in the US and Europe. She has risen to fame all over the world as an artist and teacher. At this time, she cordially invites young and old to her wonderful art gallery, visit once and get a lifetime memory . Contact us to make your dream a reality! Every tourist wants to visit again and again even if they are not interested in art and galleries. The beauty of the place attracts everyone from every corner of the globe. No matter what the culture and tradition are. Aunty Nike also developed a way so that rural women could get a platform to build their career through art and culture, as they are really good in this. To fulfill her dream, to overcome the shadow of neglecting rural women of Nigeria, Nike came up with the idea and founded a Non-Profit Organisation with prominent people as the members of the Board of Trustees. The foundation lead to the creation of the art gallery. The display of the artworks was made public so that people from all works of life could enjoy the culture of Nigeria. It also meets the principle objective of the Foundation. With this success, Nike Art Gallery has become one of the largest privately-owned art galleries in Africa. The Art Gallery marks its presence in four different regions: Lagos, Abuja, Osogbo and Ogidi-Ijumu. Visiting this art gallery, you see various paintings in different media, batik, fabrics, paper, canvas, embroidery, bead works. Sculptures and aluminum and copper work are also presented there. The art gallery in Lagos is a four-story building and thus the largest of the whole lot. In fact, this has emerged as one of the network chains for the art and culture lovers as well as collectors. With over 8,000 diverse artworks from different Nigerian artists, art galleries have become a new trend among the people of Nigeria. The gallery has been recently extended to include a wonderful artistic accommodation contact us to learn more!
Lekki Leisure Lake –
Lekki Leisure Lake is located along the Lekki Peninsular in Lagos overlooking the Atlantic. Lekki Leisure Lake is the best destination for safe, authentic outdoor fun in Lagos. Tucked away along the Lekki peninsula shoreline, the resort's cool tranquil lake is host to thrilling aquatic attractions including jet skiing and other exciting watercraft activities. The Lekki Leisure Lake is a safe & seaside activity center where kids & adults indulge in thrilling & adventurous activities like quad bikes, jet skis, wave boat, pontoon boat, pedal boats. This lake also hosts several birthday parties, seaside activities, general meeting, fun party and everything else. This becomes an ideal place to stay as there is also a hotel, Vantage Hotel, near the lake. Lekki Leisure Lake aims to enhance not only the physical but also mental strength of its visitors with some thrilling and engaging leisure activities. There several such activities which you may want to enjoy !These include Quad Bike: With the quad bike you will tour through the beach track. It will keep you laughing by sharing some fun moments with you families and friends. It is open to everyone over the age of 12. Jet Skiing: The lake offers high varieties of adventure in the name of Jet Ski. It keeps your adrenaline high with lots of fun and makes you refreshed. It is safe to do as you are always under the guidance of an instructor. We offer you a variety of services including Airport Transfer comfortable transport hotels and much more. Take this as your invitation to explore Lagos! Remember to read other sites you can visit in Nigeria part 2 Leave your comments and fill the contact form to reach us
Take off time is Now to Explore A Variety Of Lagos Tourist Attractions We are sharing 3 articles about Nigeria this is the First as Lagos is the center nerve you can feel your pulse racing as you step the shores of Lagos make sure you read all 3 to get all the details and choose all the places you want to visit . As a traveler and writer, Ms. Freya Stark, said, "To awaken quite alone in a strange town is one of the pleasantest sensations in the world," at Hadur Travel and Tours we urge you to check out our list of the tourist centers in Nigeria make your choice grab your map and hat and start out ! Welcome to Lagos here is where you feel the pulse . Ensure you visit at least a city in Nigeria once in your life time. Its OK to plan your trip with us. Trying to list all of the must see attractions here would probably take a whole day. Our decision is to limit our selection to only the most Popular tourist sites in Nigeria starting here with Lagos.