Hadur Travels wins African Brand Leadership Merit Award and Two Other in 2018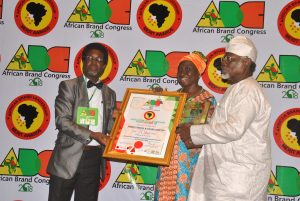 "PRESS RELEASE
It was a year of Awards as Hadur Travels wins 3 Awards in 2018 as reported by 6 National Dailies i.e Punch , Vanguard, The Guardian,Leadership/Daily Trust,This Day and Businessday News Papers.
Hadur Travels wins Africa's Best Premium Travel Agency 2018 July 15, Lagos, Nigeria Hadur Travel and Tours has won the Africa's Best Premium Travel Management Agency of the Year 2018 award.
The award was presented to the company by the African Brand Congress at the 2018 edition of the African Brand Leadership Merit Award held at the Eko Hotel & Suites, Victoria Island, Lagos.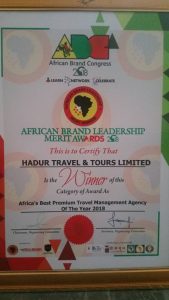 As the only brand selected from the travel and tour sub-sector in 2018, Hadur was picked for the award by the Technical Committee of the Brand Leadership Award because of its recent strides and innovation in building a brand that is in tune with International best practices.
Convener, ABC, Mr. Desmond Esorougwe, explained that Hadur Travel and Tours has made an outstanding contribution to the development of tourism and agricultural sector in Nigeria and across the continent.
He said, "Hadur has contributed to the economic aspirations of Nigerians and the transformation of African's image in the International market while displaying a high standard of good corporate citizenship and social responsibilities. The award is aimed at celebrating Leadership, innovations and creativity in Africa. It showcases brilliant minds and institutions that are delivering positive change and shaping Africa's future."
Chief Executive Officer, Hadur Travel and Tours, Mrs. Olufunke Taiwo, explained that the company's sophisticated online presence backed up by a good reputation earned Hadur such laurel.
With the recognition, elated Taiwo expressed gratitude to the organizers for the recognition and ascribed the company's success to its "ever increasing number of satisfied clients, who give us challenging projects and their post-service referrals over the years. We assured both existing and potential clients that we will not relent in providing personalised, exceptional, professional services for them."
"We are set to further give our best to stakeholders in the tourism and agricultural sector. As a support player, we will go all out to use tourism as a tool to educate farmers in a practical way. Travel is education and the best way to learn is practical exposure. Farmers need to take.
This was followed by the Award of Africa Top 100 Tour Operators Award in September also at Eko Hotel and Suites at the 14th Akwaaaba African Travel Market.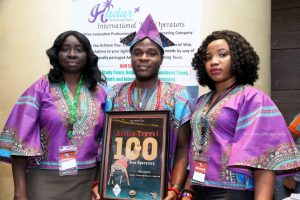 The Last award of the year was by Aeroport college of Aviation & travel Management – " Prestigious Tourism Company of the Year " 13th October.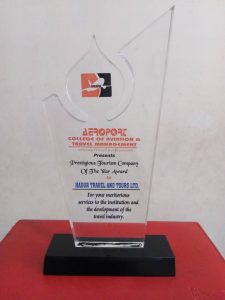 In all of these we were highly honored and delighted pledging all to Gods Glory and Honour and making us more determined to remain professional and excel in our chosen field of Operation.
We remain committed to our goal and hope to see you one one of our tours soon .!!!