BEAUTY OF SONGHAI STUDY TOUR PORTO-NOVO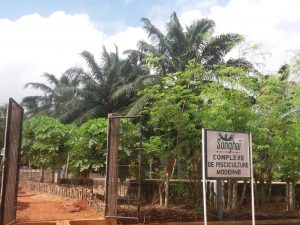 Welcome to our amazing blog . It has been a wonderful and busy year for us and interestingly, it's the beginning of another quarter of the year. This means more busy days ahead as we need to prepare for upcoming tours.
Well, talking about tours, the June edition of our amazing and exciting agro study tour has just been concluded and , it was a big success.
For those who don't know, Songhai is an integrated farming center with waste to wealth opportunity. Visiting the farm exposes us to on site learning . Songhai farm has different sections including machine fabrication, production unit, processing, Bio-Gas, fish farming, crop production, poultry section, plastic recycling, soap production, fruits and many more…
Talking from experience, all activities going on in Songhai are in puts to other sections so that nothing is put to waste on the farm, rather they are being recycled and used for other commercial purpose.
The beauty and benefit of Songhai Farm cannot be over emphasized as it has been tested and trusted over the years serving as our number one partner when it comes to Agricultural tours, that is why we lead several groups at different times and seasons of the year to explore the benefits and beauty of this great establishment. Some of the benefits derived are;
Benefits:
Inspiration to farm better,
Networking with others with passion for Agriculture,
Expert technical knowledge and skills needed to begin or grow your own sustainable farm .
Knowledge of practical modern farming methods while identifying areas of the farm in need of improvement.
Luckily, with very little investment, you can join our next tour for this amazing experience ;
DATE S: 5th – 9th August,2018
Closing Date: 27th July
Last Tour of the Year : 18th – 22nd November
TESTIMONIES:
"This is an eye opener to the world of Agri business".-Mrs Enofin Foluso (Feb,2018)
"A worthwhile time invested on agro-based lessons that can enhance one's fortune". -Mr. Okereke Michael (June,2018)
For the last quarter of the year, we have other tours coming up;
–Farm Tech Kenya, awesome exhibition. 1st of its kind, a tool for the evolution of farming community.
Date: 10th – 15th September
– Food-Tech Eurasia Expo : Istanbul, a one-stop-shop where farming farming professionals find innovative, reliable, and high quality solutions to take their products to market.
Date: October 28th – 4th November
Don't take their testimonies for it, come and experience it yourself, contact us TODAY!!!

Simply fill the contact form on this page .